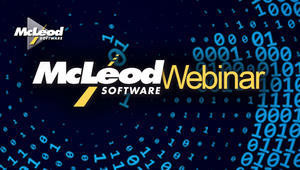 Using McLeod's Pricing Module to Make Better Pricing Decisions
Every day you're challenged to come up with accurate pricing and do it quickly. Are you adequately prepared? There is an art and a science to pricing freight - why not take advantage of the tools that give you an edge?
McLeod's Pricing module presents internal and external information sources together in one place to help you analyze the most important factors when pricing freight - mileage costs, historical and current market rates, fuel, accessorial charges, etc. You can even monitor and evaluate the outcome of your bids with the Pricing module, so you make better pricing decisions in the future.
Would you like to complete more RFP's in less time, with better accuracy? Watch this webinar and learn how McLeod's Pricing module can help you bid with confidence.
Request this webinar